Wes and Linda Wada
Winter Road Trip - Denver to Bend January 2017


We departed on a much-anticipated road trip on January 1st. Truth be told, we were looking forward to a long auto trip through winter scenery, winding down from an arduous and demanding five weeks in Denver.

Long winter drives are all about timing and hours each night spent studying online weather projections. The route is dependent on weather and road conditions, and we spent time weaving through Colorado, Utah, Idaho and eastern Oregon to get home.

This trip did not go smoothly, as a major winter storm brought everything to a halt in the Salt Lake City area. But after six days, including an 8-1/2 hour driving marathon the last day, we arrived safely at home.


Day One: From Denver via I-25 south through Colorado Springs, then west through Canon City, Salida, Monarch Pass, then west to overnight in Gunnison. By taking this route, we avoided snowy conditions and hazardous mountain passes at Loveland and Vail on I-70 west of Denver.

Day Two: Our morning started with a postcard scene northwest of Gunnison.





Further north, the highway follows the shoreline of the humongous 20-mile long Blue Mesa Reservoir.




The clip directly below illustrates mountain driving that can be very hazardous during poor weather conditions, especially if black ice is present. Since the weather had been hovering around zero degrees, snow had not melted to form any ice. This is a high point near Blue Mesa as it crests on the way down to Montrose, Colorado.





The drive from Grand Junction, Colorado to Salina,Utah during the afternoon of Day Two was the easiest of the trip. Dry roads and great Utah scenery made for a relaxing time. This is an area close to Moab, Arches, and Bryce Canyon.



The night of Day Two was in the road-weary town of Salina, Utah. While there, the Salt Lake City area further north was hit with a massive snowstorm that no one had forecast. I-15 through the valley was closed, and travel was paralyzed throughout the area.

We used an Airbnb rental in Provo to ride out the storm, but later decided we needed to be further north in the Salt Lake valley, because travel routes that approached Idaho and Oregon from Nevada were blocked by heavy snow. We needed to enter Idaho, which was having better weather, from the southeast using I-84.

We used the next full day to drive the old highways north 100 miles to Brigham City, an effort that took a full 5-1/2 hours of driving on passable roads. In doing so, we probably went through over a dozen towns and cities that make up the I-15 corridor.


Day Five - Brigham, Utah to Hagerman, Idaho via I-84

The trip out of the Salt Lake area to southeastern Idaho was the most hazardous driving of the entire journey.

The early part of the day was lower elevation near Brigham City and Honeyville on a country highway.
Once we entered I-15 bound for faraway southeastern Idaho, the tone of the trip changed radically. Threading our way through accident-stalled traffic, we passed six wrecks and slide offs on the way to a steep ascent to Rattlesnake Pass. Pick-ups pulling trailers were particularly vulnerable.

The safest way to travel these conditions was to collect in 30mph pods of cars, trucks and semis. We crawled along icy and treacherous roads until we finally reached the high-elevation flats near Snowville, Utah.


The scene below was funny, as long it was happening to somebody else. Note the guy standing next to the Interstate, with his truck off the road and stuck in the median. We thought he looked like he was waiting for somebody.

As we passed, there was the young fella holding a tow strap in his hand, hoping somebody would stop to pull him out. In these conditions, going over a hill at high speed will put you into this situation almost every time on the downhill slope.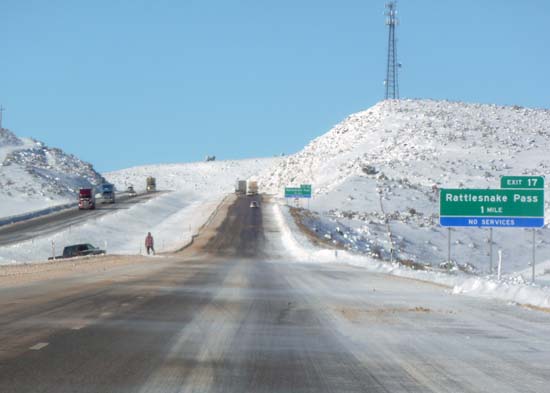 After nearly 60 miles of driving icy, steep highway, the road leveled out at Snowville, Utah, and we could relax a bit on friendlier roadway.

A couple of hours later, we pulled into a restaurant parking lot near I-84. This is what our car looked like.


Day Six
After a pleasant night, we woke up to the news that a major snowstorm forecast had moved up 10 hours, potentially blocking our path back to Bend. We decided to pack two days of driving into one, and started the 8-1/2 hour drive before dayllight. We stopped for breakfast in Ontario, Oregon where it was -4F. One of the towns we would have to go through was -21F that morning.

The back country highway starting east of Juntura all the way to Buchanon in eastern Oregon was snow-packed, with a lot of hills and curves. While the drive was through pretty terrain, you really had to pay attention to your driving.

At the town of Burns, Oregon, we were almost home. This was a typical scene in many towns throughout our journey.


The home stretch was along Highway 20, about 2-1/2 hours of two-lane highway which was windy, but mostly dry. The mountains in the distance are those close to Bend.

Though we beat the snowstorm's arrival to the area, by the next day, a foot of (additional) snow had fallen in the Bend area. We have spent hours shoveling snow, and the end is still not in sight. Great to be home, though, safe and sound.


Photos by Wes and Linda Wada (usually by whoever wasn't driving at the moment).

This winter is the second-worst we have experienced in Oregon. The infamous one occurred during the winter of 1992-93, where at times we had four feet of snow on the level.

A ranked list of the most winter dangerous roads on this trip:
1. I-84 from Tremonton, Utah to Snowville, Utah
2. Hwy 50 mountain pass between Blue Mesa Reservoir and Montrose, Colorado
3. Hwy 20 in Oregon, from east of Juntura to Buchanon, Oregon

Other roads like Hwy 20 between Burns and Bend can be dangerous, but we were lucky to hit them at a safe time.

Total highway mileage for the trip was1366. Additonal miles were put on with side trips at our nightly destinations.

Note: we normally drive on studded snow tires, but these were not available in the size needed for our Honda FIT. So, we purchased a set of Bridgestone Blizzak snow tires and have been very happy with their performance. We also carried a pair of tire chains for the front wheels, but did not have to use them. Front Wheel Drive or All Wheel Drive are essential in these driving conditions.